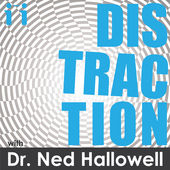 I'm excited to discover Dr. Ned Hallowell's new podcast series: Distraction.
Dr. Hallowell is a well-known expert in ADHD, but whether we have ADHD or not, he offers ways to help us all lead happier, more productive lives.
In fact, I'm so excited about his new podcast, that I'm offering a complimentary hour of phone coaching to the first person who contacts me and tells me in which episode he discusses C-states and F-states, and what those terms mean.
Take a listen and then tell me what you enjoy most about Distraction!
Social Share