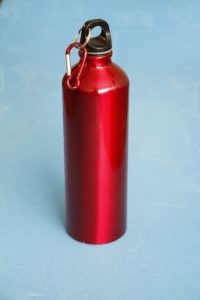 I've developed the good habit of drinking 72 ounces of water a day.
During a recent appointment with a client, I realized that I felt awful. I was fatigued and eager for the appointment to be over. It was hard to sustain my focus. Luckily, I was able to function well-enough, but I was conscious of having to exert extra effort. Since I usually really enjoy my work, I was a bit concerned. I wondered why I felt so lousy, and then I realized I had forgotten my water bottle.
When I got back to my car, I started drinking my water again, and almost immediately began to perk up. I was reminded that when we are practicing good habits, we often aren't aware of how helpful they are. We just feel normal. But when we don't follow our good habits, we experience negative consequences. All too often, we beat ourselves up for these negative consequences, and assume there is something wrong with us. Maybe instead, we need to remember our good habits.
If you find that you're not performing up to your usual standards, stop and consider what you may be doing differently:
How is your sleep?
Are you eating nutritious meals?
Are you getting your usual level of exercise?
Are you taking your regular time to review your priorities and plan your day?
Have you been taking adequate breaks?
This was a good reminder for me that it's important to pay attention to the habits that help us feel good and function well. Especially when feeling good and functioning well has become our new "normal." We may not realize all the things we are doing right, to finally get to the place where we aren't feeling quite so lousy, anymore.
SaveSave
SaveSave
SaveSave
Social Share