I was my own first client
I became interested in organizing because I had to figure out how to be organized enough so that I could function well in my own life, despite my inherent messiness. Much to my surprise, I discovered I was actually good at organizing, and started my business in 2006.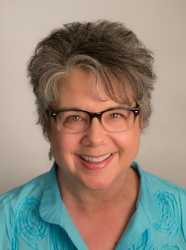 With my background in nursing and education, I quickly began to focus on the root causes of my clients' organizational challenges. I wanted to work with them in a way that would have a truly positive impact on their quality of life. I went on to specialize in working with people who are chronically disorganized or have ADHD.
Over the years, my business has slowly evolved and now I spend most of my time with clients helping them get things done. Sometimes, I do that by providing hands-on physical assistance, but often I do it through coaching, enabling my clients to learn habits and skills so they can work more productively on their own.
Certifications and Ongoing Education
I'm dedicated to ongoing education; it keeps me stimulated and helps me better serve my clients. I maintain five certifications, which all require continuing education to renew:
Associate Certified Coach, International Coach Federation, 2015
Certified Organizer Coach®, 2014
Certified Professional Organizer®, 2009
Certified Professional Organizer in Chronic Disorganization®, 2009
Registered Nurse, State of California, 1985
Click here to read more about my ongoing education.
Volunteer Activities
Besides the volunteer work I do for my professional associations, I also volunteer with organizations such as the San Mateo County Hoarding Task Force, Rebuilding Together, Swords to Ploughshares and non-profit groups in my local community.
Personal
Many would find me pretty boring. There are very few social events that sound more exciting to me than being curled up on the couch with a good Sudoku puzzle, in quiet companionship with my husband. My dream vacation is following the backroads through all the small towns in rural America. I hate to cook and I'm horrible at arts and crafts, except I like to knit. I'm not particularly athletic, but movement is important to me and I use a pedometer to make sure I walk at least 5 miles a day; preferably outdoors.
Domesticity has never been my thing. During my time as stay-at-home-mom, I followed my kids to school, eventually working part-time as a substitute teacher and instructional aide. I much preferred to be doing good in the schools instead of feeling guilty about not fully embracing the role of homemaker. Imagine my surprise when I discovered that because of my domestic challenges, I was actually good at helping others learn to function better in their own homes!
When I was ready to turn my attention back to a full-time career, I was still a nurse at heart, but I didn't want to return to the rigorous schedule of working in a traditional nursing role. I found it incredibly gratifying to share what I had discovered about getting organized, so I started my business in 2006 and here I am today.