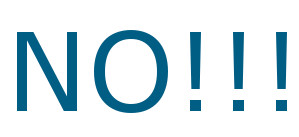 The recent death of Nancy Reagan reminded me of her "Just Say No" campaign against drug use. Many ridiculed her for over-simplifying a very complex problem.
As someone who is often witness to people struggling to say "no" to unhelpful habits, I'm well aware that it can be very difficult. But I also think the mantra  "just say no" can be helpful, if we make it our goal and not our first step. Ultimately, we want to get to a place where making the right choice is truly as easy as "just say no."
So how to begin? I'm going to make this the first installment of my very own, "Just Say No" blogging campaign. I have no idea how many installments there will be, but I know this is a complex topic and I have to break it up into small pieces to even attempt it. My purpose in blogging about this is to identify the different elements of the struggle, not necessarily to say "no," to anything in particular. I'm hoping we can each apply what we learn to our own unique situations.
As the first step in our "Just Say No" campaign, let's become more aware of when we have the option to say "no." Doesn't mean we have to say it. Doesn't mean we have to want to say it. Doesn't mean anything more than recognizing when we are in a moment of choice.
Here are some examples of moments of choice:
Facebook or work
Watch TV or clean the cat litter box
Snack or go to bed
Sleep in or get up and go for a walk
Criticize your spouse or say something kind
We don't have to do anything differently. Let's just try to identify the times when we have option to do something differently; when we have the option to say "no."
Let me know how it goes.
Click here to read the next "Just Say No" post in this series.
Social Share