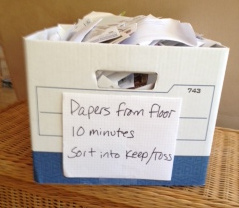 I've written in the past about how important labels are. They help us figure out what we're looking at and where to put things, so that we don't have to think too much. Recently, I had an "aha" moment about another way that we use labels. We don't just use them to identify our stuff, but to identify our actions, too.
A client and I were exploring why she hadn't done some of her self-assigned "homework." She described how she had entered the room and looked at the five boxes she intended to sort, which were clearly labeled with the contents. There was no time sensitivity to any of the boxes, so it didn't matter which one she did first, but the fact that there were five, and that she was looking at them after a long day of work, meant that figuring out where to start was just one decision too many.
We realized that identifying the contents alone wasn't enough. We needed to identify where and how to start. So we put numbers on each box to prioritize them, even though it didn't really matter. We also wrote down a reminder to start with just ten minutes, not necessarily the entire box.
Another client struggled with processing her mail due to anxiety issues around paper. We posted a label on her mail sorter with five simple steps to follow whenever she got stuck.
For both clients, we used labels to identify relatively simple actions that would make it easier to follow through with their intentions.
Sometimes, it's the simple stuff that trips us up the most. In the face of strong emotion or fatigue, our brains can shut down. Having labels to tell us what to do allows our brains to conserve energy for the truly hard stuff.
How do you use labels to preserve your brain-power?
Social Share